Tomago Kake Gohan – Polidori Style
Tomago Kake Gohan – Polidori Style is a delicious twist on the classic Japanese comfort food. This dish features a warm bowl of rice topped with a flavorful Polidori sausage and egg mixture, creating a satisfying and savory breakfast or anytime meal with a unique blend of American and Japanese flavors.
Made with:
Chorizo
20

minutes
40

minutes
1

hour
Ingredients:
4

cups

White rice

Cooked and hot

4

whole

Eggs

Soft boiled, peeled, and sliced in half

1/2

pound

Polidori Chorizo

8

tsp

Soy sauce

4

tsp

Sesame oil

Maldon salt

for garnish

Nori furikake (Japanese rice seasoning)

for garnish

Fried onion

for garnish

1

stalk

Scallions

chopped for garnish

Cilantro

chopped for garnish
Directions:
Cook rice according to directions.

Boil pot of water for eggs and place in water when it comes to boil for 7 minutes. Remove and shock in ice water till cooled. Peel and set aside.

Cook sausage in skillet till cooked thoroughly and set aside, keeping warm.

Assembly:

Divide rice and place in 4 warm bowls. Season with soy sauce and sesame oil. Divide chorizo evenly among bowls. Place eggs in center of bowls and garnish with Maldon Salt, furikake, fried onions, scallions and cilantro.

Stir everything together after serving and eat with a spoon.

To be more traditional, you can substitute a raw egg for the cooked one. Don't shy away from this, it's amazing!
More recipes
Sausage & Butternut Squash Pasta Recipe
View recipe
View recipe
Hatch Chile Cheese Sausage Mac and Cheese
View recipe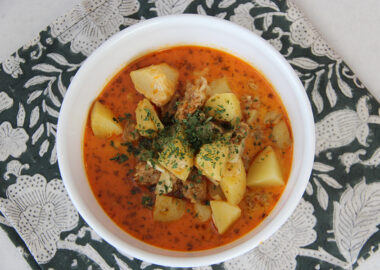 View recipe
Chorizo Salsa Verde Pizza
View recipe
Polidori Grilled Sausages with Peaches and Pickled Onions
View recipe
Polidori Brats and Side Dish Salads
View recipe
Sweet and Spicy Polidori Sausage Sandwich
View recipe
Air Fried Polidori Hatch Chile Cheese Sausage
View recipe
Polidori Chorizo Stuffed Bell Peppers
View recipe
Pasta with Polidori Sausage, Tomatoes, and Cream
View recipe
Sheet Pan Sausage Peppers and Onions
View recipe
Polidori's Famous Lasagna
View recipe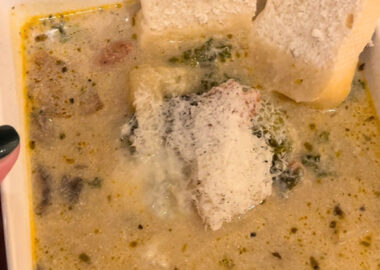 Slow-Cooker Tuscan Sausage Soup
View recipe
View recipe
Creamy Italian Sausage Butternut Squash and Gnocchi Soup
View recipe
Polidori Sausage Soup in a Pumpkin
View recipe
Polidori Bratwurst Mummies
View recipe
Polidori Sausage-&-Mac-O-Lanterns
View recipe
Polidori Italian Sausage, Gnocchi and Tomato Soup
View recipe