Sheet Pan Sausage Peppers and Onions
Simplify your weeknight dinner with the Sheet Pan Sausage Peppers and Onions recipe. This easy-to-make dish features Polidori sausages, colorful bell peppers, and onions roasted together on a sheet pan, creating a flavorful and fuss-free meal that's perfect for busy evenings.
Made with:
Mild Italian Links
20

minutes
20

minutes
40

minutes
Ingredients:
1

lb

Polidori Mild Italian Sausage

2

Green peppers

sliced

2

Red peppers

sliced

1

large

Sweet onion

sliced

2

tbsp

Olive oil

1

tbsp

Italian seasoning

1

tsp

Garlic powder

Salt and pepper to taste
Directions:
Preheat the oven to 350 degrees.

Place the Italian sausage links in the center in a single layer. Surround the sausage with the onions and peppers.

Drizzle oil over the onions and peppers.

Season with salt and pepper and seasonings. You can also add optional red pepper flakes.

Bake for about a half hour or until the peppers and onions are soft and roasted and your sausage is cooked through.

You can choose to slice your sausage into 1-2 inch slices or keep them whole.

Our favorite way to serve this sheet pan sausage and pepper recipe on a hoagie roll, marinara or tomato sauce, parmesan cheese and mayo.
More recipes
Sausage & Butternut Squash Pasta Recipe
View recipe
View recipe
Hatch Chile Cheese Sausage Mac and Cheese
View recipe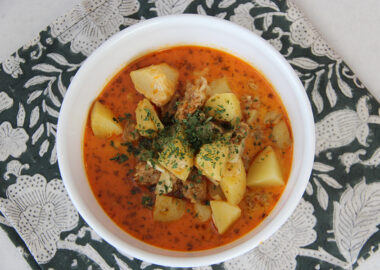 View recipe
Chorizo Salsa Verde Pizza
View recipe
Polidori Grilled Sausages with Peaches and Pickled Onions
View recipe
Polidori Brats and Side Dish Salads
View recipe
Sweet and Spicy Polidori Sausage Sandwich
View recipe
Air Fried Polidori Hatch Chile Cheese Sausage
View recipe
Polidori Chorizo Stuffed Bell Peppers
View recipe
Pasta with Polidori Sausage, Tomatoes, and Cream
View recipe
Polidori's Famous Lasagna
View recipe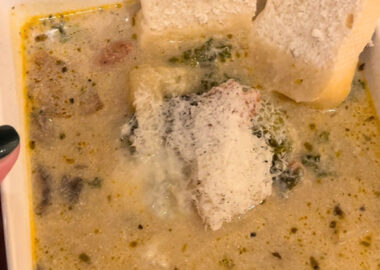 Slow-Cooker Tuscan Sausage Soup
View recipe
View recipe
Creamy Italian Sausage Butternut Squash and Gnocchi Soup
View recipe
Polidori Sausage Soup in a Pumpkin
View recipe
Polidori Bratwurst Mummies
View recipe
Polidori Sausage-&-Mac-O-Lanterns
View recipe
Polidori Italian Sausage, Gnocchi and Tomato Soup
View recipe
Polidori Chorizo Mac & Cheese with Real Dill Bloody Mary Rimming Spice
View recipe