Creamy Polidori Chorizo Potato Soup
Cozy up to a bowl of our Creamy Chorizo Potato Soup, where the hearty flavors of chorizo and tender potatoes blend seamlessly in a velvety, soul-warming broth. It's the perfect comfort food to satisfy your cravings on a chilly day.
Made with:
Chorizo
10

minutes
1

hour
1

hour
10

minutes
Ingredients:
1

lb

Polidori Chorizo

crumbled into small chunks

1

lb

potatoes

peeled and cut into cubes

1

tbsp

oil

1

medium onion

1

tbsp

garlic

minced

1

tsp

cumin

1

tsp

thyme

1

Bay

leaf

4

cups

chicken stock

1

cup

whole milk

salt to taste
Directions:
Saute Aromatics and Chorizo
Heat a pot. Add oil to it.

Once the oil is medium-hot, add chopped onion. Fry till it softens.

Add minced garlic. Saute them until they become aromatic (avoid burning).

Add chorizo chunks. Cook for 4- 5 minutes. It will start to release oil, and the color will change.
Add and Cook Potatoes in Stock
Add cubed potatoes to the Chorizo mix. Cook on medium heat for 5-7 minutes.

Add cumin powder and thyme and season with salt. Mix well.

Add chicken stock and bay leaf. Let it come to a boil, then reduce the heat to low. Cover and let it simmer for 15 minutes until the potatoes are cooked.

Stir in between. If required, add more stock. Potatoes should be cooked and become soft.
Add Milk and Simmer
Once the potatoes are cooked through, add milk.

Stir well. Cover and let it simmer for another 10 minutes on low heat.

While serving, garnish with chopped green onion.
Notes
To reduce the cooking time, substitute raw potatoes with cooked potatoes.

If you prefer something very creamy and thick without chunks, use a blender to blend everything in the soup after the potatoes are cooked. This will make the soup very creamy and smooth.
More recipes
Sausage & Butternut Squash Pasta Recipe
View recipe
View recipe
Hatch Chile Cheese Sausage Mac and Cheese
View recipe
Chorizo Salsa Verde Pizza
View recipe
Polidori Grilled Sausages with Peaches and Pickled Onions
View recipe
Polidori Brats and Side Dish Salads
View recipe
Sweet and Spicy Polidori Sausage Sandwich
View recipe
Air Fried Polidori Hatch Chile Cheese Sausage
View recipe
Polidori Chorizo Stuffed Bell Peppers
View recipe
Pasta with Polidori Sausage, Tomatoes, and Cream
View recipe
Sheet Pan Sausage Peppers and Onions
View recipe
Polidori's Famous Lasagna
View recipe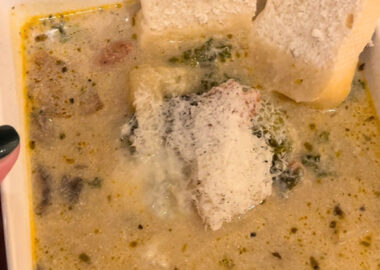 Slow-Cooker Tuscan Sausage Soup
View recipe
View recipe
Creamy Italian Sausage Butternut Squash and Gnocchi Soup
View recipe
Polidori Sausage Soup in a Pumpkin
View recipe
Polidori Bratwurst Mummies
View recipe
Polidori Sausage-&-Mac-O-Lanterns
View recipe
Polidori Italian Sausage, Gnocchi and Tomato Soup
View recipe
Polidori Chorizo Mac & Cheese with Real Dill Bloody Mary Rimming Spice
View recipe