Chorizo Salsa Verde Pizza
Chorizo Salsa Verde Pizza is a zesty and flavorful twist on traditional pizza, featuring spicy Polidori chorizo, tangy salsa verde, and melted cheese atop a crispy crust. This mouthwatering pizza offers a delightful fusion of Mexican and Italian flavors, creating a satisfying and unique culinary experience.
Made with:
Chorizo
5

minutes
10

minutes
15

minutes
Ingredients:
1

lb

Pizza dough

store bought or homemade

1/2

cup

Salsa Verde

plus more for topping

1

cup

Monterey Jack cheese

shredded

1

cup

Queso fresco

crumbled

1

lb

Polidori Chorizo

cooked and crumbled

1.2

cup

Cherry tomatoes

halved

1/2

cup

Red onion

thinly sliced
Directions:
Place a pizza stone on the grill and preheat over medium-high heat (about 550˚F).

Stretch the dough into the desired shape. Place it on a pizza peel dusted with cornmeal if you have one for easy transfer.

Spread Salsa Verde over the dough in an even layer, leaving a small border for the crust.

Top evenly with Monterey Jack cheese and queso fresco. Then, sprinkle the Polidori Chorizo—top with tomato halves and slices of red onion.

Transfer to pizza stone and grill for 7 to 10 minutes until the crust is golden on the edges.

Remove from grill and top with additional Salsa Verde as desired.
More recipes
Sausage & Butternut Squash Pasta Recipe
View recipe
View recipe
Hatch Chile Cheese Sausage Mac and Cheese
View recipe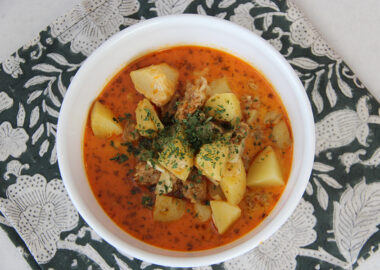 View recipe
Polidori Grilled Sausages with Peaches and Pickled Onions
View recipe
Polidori Brats and Side Dish Salads
View recipe
Sweet and Spicy Polidori Sausage Sandwich
View recipe
Air Fried Polidori Hatch Chile Cheese Sausage
View recipe
Polidori Chorizo Stuffed Bell Peppers
View recipe
Pasta with Polidori Sausage, Tomatoes, and Cream
View recipe
Sheet Pan Sausage Peppers and Onions
View recipe
Polidori's Famous Lasagna
View recipe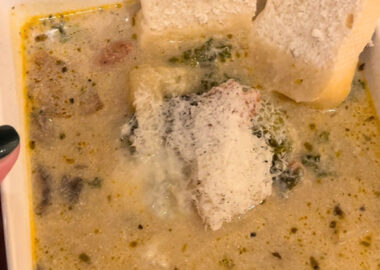 Slow-Cooker Tuscan Sausage Soup
View recipe
View recipe
Creamy Italian Sausage Butternut Squash and Gnocchi Soup
View recipe
Polidori Sausage Soup in a Pumpkin
View recipe
Polidori Bratwurst Mummies
View recipe
Polidori Sausage-&-Mac-O-Lanterns
View recipe
Polidori Italian Sausage, Gnocchi and Tomato Soup
View recipe
Polidori Chorizo Mac & Cheese with Real Dill Bloody Mary Rimming Spice
View recipe