Polidori Grilled Sausages with Peaches & Pickled Onions
Experience a burst of sweet and savory flavors with the Polidori grilled sausages with peaches and pickled onions recipe. Juicy Hatch chile cheese Polidori sausages, grilled to perfection, are served alongside succulent peaches and tangy pickled onions, creating a delightful summer dish that balances smokiness and freshness in every bite.
Made with:
Hatch Chile Cheese Links
10

minutes
10

minutes
20

minutes
Ingredients:
1/2

cup

Apple cider vinegar

1/4

cup

Distilled white vinegar

3

tbsp

Molasses

1 1/2

tsp

Kosher salt

1/2

cup

Water

2

Jalapeños

seeded and thinly sliced

1

small

Red onion

thinly sliced

Canola oil for brushing

6

4 oz

Polidori Hatch Chile Cheese Sausage links

2

medium

Peaches

pitted and sliced 1/4" thick

Parsley for garnish
Directions:
In a 1-quart jar, shake both vinegars with the molasses, salt, and water until the salt dissolves. Add the jalapeños and onions, cover, and let stand at room temperature for at least 1 hour.

Oil a grill grate and grill the sausages over moderate heat, turning, until lightly charred and cooked through, 10 to 12 minutes.

Transfer the sausages to a cutting board and let them rest for 5 minutes, then thinly slice on the bias.

Arrange the sliced peaches on a platter. Top with the sausages and some of the pickled jalapeños and onions. Drizzle with some of the pickling liquid, garnish with parsley, and serve the remaining pickled veggies on the side.
More recipes
Sausage & Butternut Squash Pasta Recipe
View recipe
View recipe
Hatch Chile Cheese Sausage Mac and Cheese
View recipe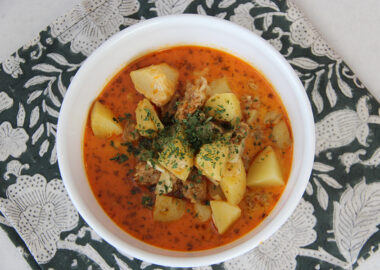 View recipe
Chorizo Salsa Verde Pizza
View recipe
Polidori Brats and Side Dish Salads
View recipe
Sweet and Spicy Polidori Sausage Sandwich
View recipe
Air Fried Polidori Hatch Chile Cheese Sausage
View recipe
Polidori Chorizo Stuffed Bell Peppers
View recipe
Pasta with Polidori Sausage, Tomatoes, and Cream
View recipe
Sheet Pan Sausage Peppers and Onions
View recipe
Polidori's Famous Lasagna
View recipe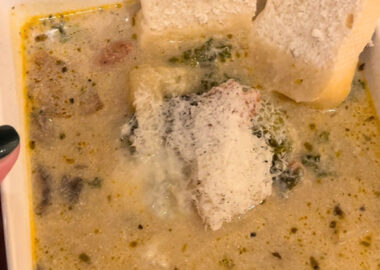 Slow-Cooker Tuscan Sausage Soup
View recipe
View recipe
Creamy Italian Sausage Butternut Squash and Gnocchi Soup
View recipe
Polidori Sausage Soup in a Pumpkin
View recipe
Polidori Bratwurst Mummies
View recipe
Polidori Sausage-&-Mac-O-Lanterns
View recipe
Polidori Italian Sausage, Gnocchi and Tomato Soup
View recipe
Polidori Chorizo Mac & Cheese with Real Dill Bloody Mary Rimming Spice
View recipe