Polidori Chorizo Stuffed Bell Peppers
Cooking for 2, 4, 6, 20 people?! Simply change the number of guests you are feeding and watch the ingredients below update to make the perfect amount of food. TIP: You might want to account for those who tend to go for seconds…or thirds. Whatever, we don't judge.
Made with:
Polidori Chorizo sausage
30

minutes
30

minutes
1

hour
Ingredients:
1

lb

Polidori Chorizo sausage

6

Red bell peppers

tops cut off and seeded

1

stalk

Celery

minced

1

Carrot

minced

1/2

Onion

chopped

4

cloves

Garlic

minced

Salt and pepper to taste

14.5

oz

Canned whole peeled tomatoes

chopped

1

tbsp

Worcestershire sauce

Fresh parsley

chopped

Fresh basil

chopped

1/2

cup

Long grain rice

uncooked

1/2

cup

Water

1/3

cup

Monterey Jack cheese

shredded

1/3

cup

Cheddar cheese

shredded

1/3

cup

Mozzarella cheese

shredded

1

can

Tomato soup
Directions:
Bring a large pot of water to boil. Place peppers in boiling water, and cook 5 minutes. Remove, and set aside to cool.

Preheat oven to 350 degrees F (175 degrees C).

In a large skillet, cook Polidori Chorizo until almost brown. Drain fat. Stir in celery, carrots, onions, and garlic. Cook until soft, about 5 minutes. Season with salt and pepper. Stir in tomatoes, Worcestershire sauce, parsley, basil, rice, and water. Cover, and simmer until rice is cooked, about 15 minutes. Remove from heat, and mix in Monterey Jack, Cheddar, and Mozzarella chee

Place peppers upright on a baking sheet. Stuff each pepper with the chorizo mixture. Sprinkle extra cheese on top.

In a small bowl, combine tomato soup with just enough water to give the soup the consistency of gravy. Pour generously over peppers. Cover with foil.

Bake in preheated oven about 30 minutes.
More recipes
Sausage & Butternut Squash Pasta Recipe
View recipe
View recipe
Hatch Chile Cheese Sausage Mac and Cheese
View recipe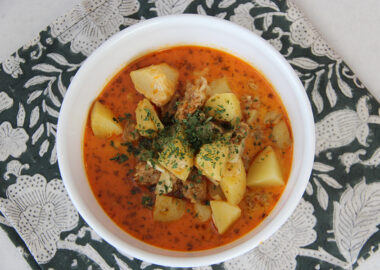 View recipe
Chorizo Salsa Verde Pizza
View recipe
Polidori Grilled Sausages with Peaches and Pickled Onions
View recipe
Polidori Brats and Side Dish Salads
View recipe
Sweet and Spicy Polidori Sausage Sandwich
View recipe
Air Fried Polidori Hatch Chile Cheese Sausage
View recipe
Pasta with Polidori Sausage, Tomatoes, and Cream
View recipe
Sheet Pan Sausage Peppers and Onions
View recipe
Polidori's Famous Lasagna
View recipe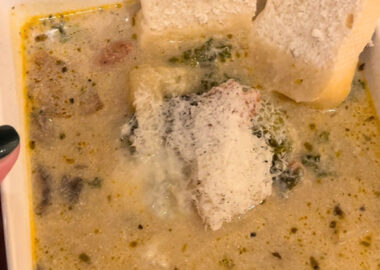 Slow-Cooker Tuscan Sausage Soup
View recipe
View recipe
Creamy Italian Sausage Butternut Squash and Gnocchi Soup
View recipe
Polidori Sausage Soup in a Pumpkin
View recipe
Polidori Bratwurst Mummies
View recipe
Polidori Sausage-&-Mac-O-Lanterns
View recipe
Polidori Italian Sausage, Gnocchi and Tomato Soup
View recipe
Polidori Chorizo Mac & Cheese with Real Dill Bloody Mary Rimming Spice
View recipe