Hatch Chile Cheese Sausage Mac and Cheese
Prepare your taste buds for a delightful twist on classic comfort food with our Hatch Chile Cheese Sausage Mac and Cheese. The smoky, spicy notes of Hatch chiles and the savory goodness of cheese sausage come together in this creamy mac and cheese, creating a dish that's impossible to resist.
Made with:
Chorizo
5

minutes
20

minutes
25

minutes
Ingredients:
4

Polidori Hatch Chile Cheese Links

1

lb

shaped pasta

1

yellow onion

diced

2

tbs

olive oil

2

tbs

salted butter

4 1/2

tbs

flour

2

cups

milk

1

cup

lite beer

1

cup

shredded sharp cheddar

2/3

cup

shredded Monterrey jack

1/2

cup

American cheese

Salt and Pepper

to taste
Directions:
Grill or pan-fry Hatch Chile Cheese links until completely cooked. Cover and set aside.

Cook pasta according to package instructions.  While pasta cooks, heat oil and butter in a medium pot or a large-rimmed skillet over medium heat. Add onion and saute till soft.  Stir in flour. Gradually whisk in the milk and allow the sauce to bubble for about 4 minutes, stirring often.

Remove pasta from heat, drain, and set aside.

Whisk the beer into the sauce and allow it to cook for an additional 3-4 minutes, stirring often.

Fold in the cheese and stir till completely melted.  Gently stir in the pasta—season with salt and pepper.

Slice sausages links and stir into pasta. Serve.
More recipes
Sausage & Butternut Squash Pasta Recipe
View recipe
View recipe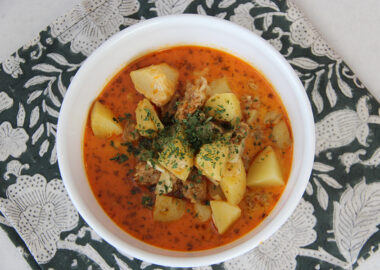 View recipe
Chorizo Salsa Verde Pizza
View recipe
Polidori Grilled Sausages with Peaches and Pickled Onions
View recipe
Polidori Brats and Side Dish Salads
View recipe
Sweet and Spicy Polidori Sausage Sandwich
View recipe
Air Fried Polidori Hatch Chile Cheese Sausage
View recipe
Polidori Chorizo Stuffed Bell Peppers
View recipe
Pasta with Polidori Sausage, Tomatoes, and Cream
View recipe
Sheet Pan Sausage Peppers and Onions
View recipe
Polidori's Famous Lasagna
View recipe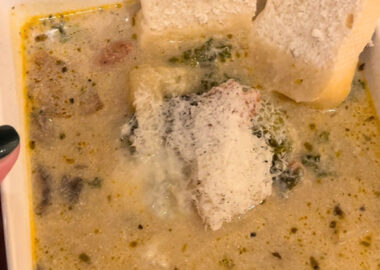 Slow-Cooker Tuscan Sausage Soup
View recipe
View recipe
Creamy Italian Sausage Butternut Squash and Gnocchi Soup
View recipe
Polidori Sausage Soup in a Pumpkin
View recipe
Polidori Bratwurst Mummies
View recipe
Polidori Sausage-&-Mac-O-Lanterns
View recipe
Polidori Italian Sausage, Gnocchi and Tomato Soup
View recipe
Polidori Chorizo Mac & Cheese with Real Dill Bloody Mary Rimming Spice
View recipe