Chorizo and Egg Tostada
Start your day with a burst of flavor by indulging in our Chorizo and Egg Tostadas. The spicy, savory chorizo pairs perfectly with fluffy scrambled eggs atop crispy tostada shells, making it the ultimate breakfast delight.
Made with:
Chorizo
15

minutes
15

minutes
30

minutes
Ingredients:
1

lb

Polidori Chorizo

1 1/4

cups

diced cherry tomatoes

(about 8 ounces)

1/2

small red onion

finely diced

2

tbs

pickled jalapeños

finely chopped, plus 1 tablespoon brine

1/2

cup

packed fresh cilantro

chopped, plus more for serving

1

tbsp

fresh lime juice

plus wedges for serving

2

tbsp

extra-virgin olive oil

8

tostada shells

1

14.5-ounce can refried beans

1

cup

shredded pepper Jack cheese (about 4 ounces)

8

large eggs

Kosher salt

Freshly ground pepper
Directions:
Preheat the oven to 425˚ F. Combine the tomatoes, red onion, jalapeños and brine, cilantro, lime juice, one tablespoon olive oil, and 1/4 teaspoon salt in a medium bowl. Set aside.

Arrange the tostadas on two baking sheets and bake until golden brown, rotating the pans halfway through, about 5 minutes. Remove from the oven. Divide the refried beans among the tostadas (about two heaping tablespoons each); spread evenly, leaving a 1/8-inch border. Crumble the chorizo on top of the beans. Return the tostadas to the oven and cook until the chorizo is cooked through about 10 minutes. Top with the cheese and continue baking until melted, 1 to 2 more minutes.

Meanwhile, heat the remaining one tablespoon of olive oil in a large nonstick skillet over medium-high heat. Add the eggs and cook until the whites are partially set, 2 to 3 minutes. Cover and cook until the whites are fully set but the yolks are still runny; 2 to 3 more minutes—season with salt and pepper.

Divide the tostadas among plates. Top with the tomato mixture, fried eggs, and more cilantro. Serve with lime wedges.
More recipes
Sausage & Butternut Squash Pasta Recipe
View recipe
Hatch Chile Cheese Sausage Mac and Cheese
View recipe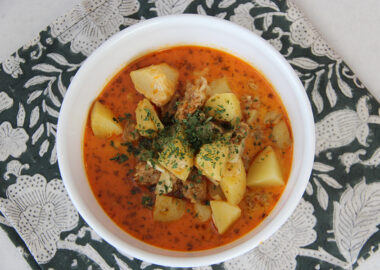 View recipe
Chorizo Salsa Verde Pizza
View recipe
Polidori Grilled Sausages with Peaches and Pickled Onions
View recipe
Polidori Brats and Side Dish Salads
View recipe
Sweet and Spicy Polidori Sausage Sandwich
View recipe
Air Fried Polidori Hatch Chile Cheese Sausage
View recipe
Polidori Chorizo Stuffed Bell Peppers
View recipe
Pasta with Polidori Sausage, Tomatoes, and Cream
View recipe
Sheet Pan Sausage Peppers and Onions
View recipe
Polidori's Famous Lasagna
View recipe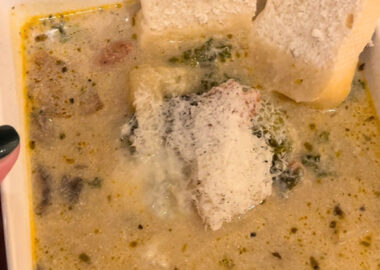 Slow-Cooker Tuscan Sausage Soup
View recipe
View recipe
Creamy Italian Sausage Butternut Squash and Gnocchi Soup
View recipe
Polidori Sausage Soup in a Pumpkin
View recipe
Polidori Bratwurst Mummies
View recipe
Polidori Sausage-&-Mac-O-Lanterns
View recipe
Polidori Italian Sausage, Gnocchi and Tomato Soup
View recipe
Polidori Chorizo Mac & Cheese with Real Dill Bloody Mary Rimming Spice
View recipe