Sweet and Spicy Polidori Sausage Sandwich
Indulge in the perfect balance of flavors with this Sweet and Spicy Polidori Sausage Sandwich recipe. Grilled Polidori Hot Italian sausages, glazed with a delectable combination of cream cheese and apricot jam, nestled in a soft bun topped with bacon crumbles for a mouthwatering experience.
Made with:
Hot Italian Links
10

minutes
30

minutes
40

minutes
Ingredients:
4

Polidori Hot Italian Sausage links

1/2

cup

Bacon

cooked and crumbled

4

oz.

Cream cheese

softenened

1

tbsp

Hot sauce

1/2

cup

Apricot preserves (we like Bonne Maman)

4

Club rolls or hot dog buns

1

tbsp

Chives

minced
Directions:
Preheat oven to 350 degrees. Lightly coat a baking dish with cooking spray and place sausages into the dish. Bake sausages for 15-20 minutes, or until cooked. You can also grill them, if you prefer.

Blend cream cheese, apricot preserves, and hot sauce together in a small bowl.

Place a sausage on a roll, smother with cream cheese apricot preserves and chives.
More recipes
Sausage & Butternut Squash Pasta Recipe
View recipe
View recipe
Hatch Chile Cheese Sausage Mac and Cheese
View recipe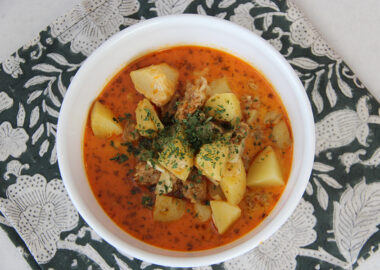 View recipe
Chorizo Salsa Verde Pizza
View recipe
Polidori Grilled Sausages with Peaches and Pickled Onions
View recipe
Polidori Brats and Side Dish Salads
View recipe
Air Fried Polidori Hatch Chile Cheese Sausage
View recipe
Polidori Chorizo Stuffed Bell Peppers
View recipe
Pasta with Polidori Sausage, Tomatoes, and Cream
View recipe
Sheet Pan Sausage Peppers and Onions
View recipe
Polidori's Famous Lasagna
View recipe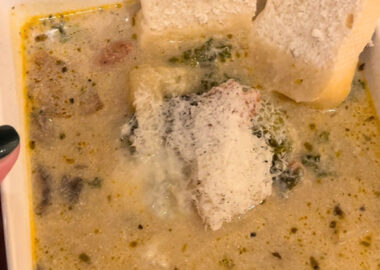 Slow-Cooker Tuscan Sausage Soup
View recipe
View recipe
Creamy Italian Sausage Butternut Squash and Gnocchi Soup
View recipe
Polidori Sausage Soup in a Pumpkin
View recipe
Polidori Bratwurst Mummies
View recipe
Polidori Sausage-&-Mac-O-Lanterns
View recipe
Polidori Italian Sausage, Gnocchi and Tomato Soup
View recipe
Polidori Chorizo Mac & Cheese with Real Dill Bloody Mary Rimming Spice
View recipe