Air Fried Hatch Chile Sausage
Elevate your dinner game with the Air Fried Polidori Hatch Chile Cheese Sausage paired with Spicy Green Beans recipe. This mouthwatering dish features Polidori's zesty hatch chile cheese sausage cooked to perfection in an air fryer, complemented by spicy green beans for a flavorful and wholesome meal that's both quick and satisfying.
Made with:
Hatch Chile Cheese Links
15

minutes
15

minutes
30

minutes
Ingredients:
1

lb.

Polidori Hatch Chile Cheese Sausage links

1

lb.

Fresh green beans

3

cups

White rice

cooked

1

tsp.

Chile oil

1

tbsp.

Olive oil

Salt and pepper to taste
Directions:
Put green beans in air fryer, season with olive oil, salt and pepper then SHAKE, SHAKE, SHAKE!

Place the Polidori Hatch Chile Cheese links in the air fryer.

Cook at 400º for 14 minutes or until sausage reaches an internal temperature of 160º.

Nine minutes into cooking, pour one teaspoon of chile oil onto the green beans

Cut links into slices and plate with green beans and rice. Enjoy!
More recipes
Sausage & Butternut Squash Pasta Recipe
View recipe
View recipe
Hatch Chile Cheese Sausage Mac and Cheese
View recipe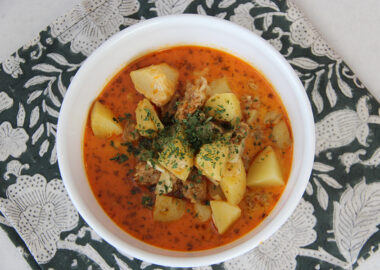 View recipe
Chorizo Salsa Verde Pizza
View recipe
Polidori Grilled Sausages with Peaches and Pickled Onions
View recipe
Polidori Brats and Side Dish Salads
View recipe
Sweet and Spicy Polidori Sausage Sandwich
View recipe
Polidori Chorizo Stuffed Bell Peppers
View recipe
Pasta with Polidori Sausage, Tomatoes, and Cream
View recipe
Sheet Pan Sausage Peppers and Onions
View recipe
Polidori's Famous Lasagna
View recipe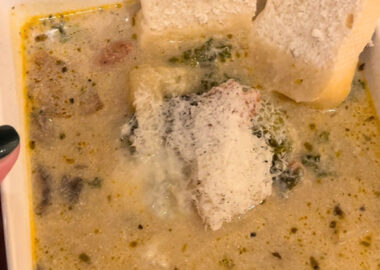 Slow-Cooker Tuscan Sausage Soup
View recipe
View recipe
Creamy Italian Sausage Butternut Squash and Gnocchi Soup
View recipe
Polidori Sausage Soup in a Pumpkin
View recipe
Polidori Bratwurst Mummies
View recipe
Polidori Sausage-&-Mac-O-Lanterns
View recipe
Polidori Italian Sausage, Gnocchi and Tomato Soup
View recipe
Polidori Chorizo Mac & Cheese with Real Dill Bloody Mary Rimming Spice
View recipe