Polidori's Famous Lasagna
Savor the legendary taste of Polidori's Famous Lasagna recipe. Layered with perfectly seasoned meat, rich tomato sauce, creamy ricotta, and a generous helping of cheese, this classic Italian dish is a true crowd-pleaser that never goes out of style.
Made with:
Mild Italian Links
30

minutes
45

minutes
1

hour
15

minutes
Ingredients:
1

lb.

Polidori Mild Italian Sausage

casings removed

3/4

lb.

Lean ground beef

1/2

cup

Onion

minced

2

cloves

Garlic

crushed

28

oz.

Canned crushed tomatoes

13

oz.

Canned tomato sauce

12

oz.

Tomato paste

1/2

cup

Water

2

tbsp

White sugar

4

tbsp

Fresh parsley

chopped and divided

1 1/2

tsp

Dried basil leaves

1 1/2

tsp

Salt, divided or to taste

1

tsp

Italian seasoning

1/2

tsp

Fennel seeds

1/4

tsp

Black pepper

12

Lasagna noodles

16

oz

Ricotta cheese

1

egg

3/4

lb

Mozzarella cheese

sliced

3/4

cup

Parmesan cheese

grated
Directions:
Cook sausage, ground beef, onion, and garlic in a Dutch oven over medium heat until well browned. Stir in crushed tomatoes, tomato sauce, tomato paste, and water. Season with sugar, 2 tablespoons parsley, basil, 1 teaspoon salt, Italian seasoning, fennel seeds, and pepper. Simmer, covered, for about 1 1/2 hours, stirring occasionally.

Preheat the oven to 375 degrees F (190 degrees C).

To assemble, spread 1 1/2 cups of meat sauce in the bottom of a 9×13-inch baking dish. Arrange 6 noodles lengthwise over meat sauce. Spread with 1/2 of the ricotta cheese mixture. Top with 1/3 of the mozzarella cheese slices. Spoon 1 1/2 cups meat sauce over mozzarella, and sprinkle with 1/4 cup Parmesan cheese. Repeat layers, and top with remaining mozzarella and Parmesan cheese. Cover with foil: to prevent sticking, either spray foil with cooking spray or make sure the foil does not touch the cheese.

Bake in the preheated oven for 25 minutes. Remove the foil and bake for an additional 25 minutes. Rest lasagna for 15 minutes before serving.
More recipes
Sausage & Butternut Squash Pasta Recipe
View recipe
View recipe
Hatch Chile Cheese Sausage Mac and Cheese
View recipe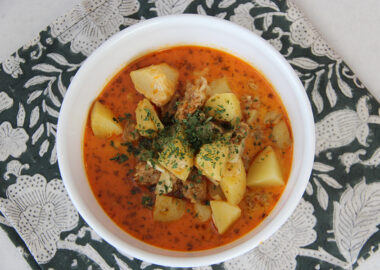 View recipe
Chorizo Salsa Verde Pizza
View recipe
Polidori Grilled Sausages with Peaches and Pickled Onions
View recipe
Polidori Brats and Side Dish Salads
View recipe
Sweet and Spicy Polidori Sausage Sandwich
View recipe
Air Fried Polidori Hatch Chile Cheese Sausage
View recipe
Polidori Chorizo Stuffed Bell Peppers
View recipe
Pasta with Polidori Sausage, Tomatoes, and Cream
View recipe
Sheet Pan Sausage Peppers and Onions
View recipe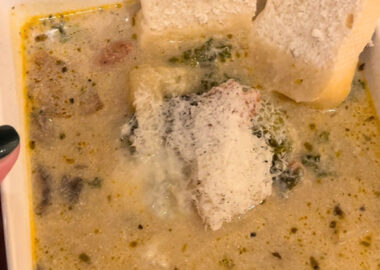 Slow-Cooker Tuscan Sausage Soup
View recipe
View recipe
Creamy Italian Sausage Butternut Squash and Gnocchi Soup
View recipe
Polidori Sausage Soup in a Pumpkin
View recipe
Polidori Bratwurst Mummies
View recipe
Polidori Sausage-&-Mac-O-Lanterns
View recipe
Polidori Italian Sausage, Gnocchi and Tomato Soup
View recipe
Polidori Chorizo Mac & Cheese with Real Dill Bloody Mary Rimming Spice
View recipe