Red Beans and Rice
Red Beans and Rice is a classic and comforting Creole dish that features tender red kidney beans cooked with flavorful spices, served over a bed of fluffy white rice. This hearty and flavorful combination is a staple in Louisiana cuisine, offering a rich and satisfying meal with a perfect balance of textures and tastes.
Made with:
Andouille Links
15

minutes
1

hour
15

minutes
1

hour
30

minutes
Ingredients:
To make the beans
1

pound

red or kidney beans

2

whole

bay leaves

4

whole

garlic cloves

crushed

1

teaspoon

salt

6

cups

Water
To make the red beans and rice
1

pound

Polidori Andouille Sausage

sliced

8

ounces

ham

diced

1

cup

onions

diced

1

cup

poblano peppers

can substitute green peppers

2

stalks

celery

chopped

1

tablespoon

garlic

minced

2-3

tablespoons

Cajun seasoning

2-4

tablespoons

hot sauce

2

whole

bay leaves

1/2

teaspoon

salt

1

teaspoon

pepper

All

cooked beans

strained

6

cups

chicken stock

preferably homemade

cooked rice for serving

sliced green onions for serving

extra hot sauce for serving
Directions:
To cook the beans
In a large stock pot, add the beans, bay leaves, garlic and, salt. Cover with 6 cups of water. Bring the beans to a boil. Boil for 5 minutes and reduce heat to simmer. Cover and cook the beans for 1 hour 15 minutes. Strain off the water, remove the bay leaves and set aside. It's ok to leave the garlic in the beans.
To make the red beans and rice
In a large stock pot, brown the sausage until almost cooked through, about 5 minutes over medium heat. Add the onions, peppers, celery, and garlic. Cook for about 3-4 minutes or until the onions become translucent. Stir in the ham, Cajun seasoning, hot sauce, bay leaves, salt, pepper, and the beans. Cover with the chicken stock.

Bring the mixture to a boil. Reduce heat to simmer and cover the stockpot with the lid. Simmer for 1 1/2 hours or until the beans are creamy and delicious.

Cook as much rice as desired according to package directions. I used long grain rice for this recipe.

Serve the finished Red Beans with rice and finish off with green onions and more hot sauce if desired.
More recipes
Sausage & Butternut Squash Pasta Recipe
View recipe
View recipe
Hatch Chile Cheese Sausage Mac and Cheese
View recipe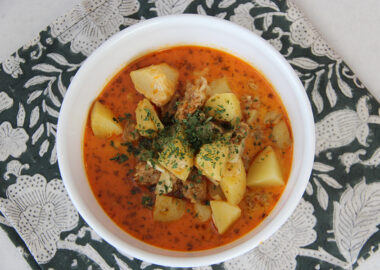 View recipe
Chorizo Salsa Verde Pizza
View recipe
Polidori Grilled Sausages with Peaches and Pickled Onions
View recipe
Polidori Brats and Side Dish Salads
View recipe
Sweet and Spicy Polidori Sausage Sandwich
View recipe
Air Fried Polidori Hatch Chile Cheese Sausage
View recipe
Polidori Chorizo Stuffed Bell Peppers
View recipe
Pasta with Polidori Sausage, Tomatoes, and Cream
View recipe
Sheet Pan Sausage Peppers and Onions
View recipe
Polidori's Famous Lasagna
View recipe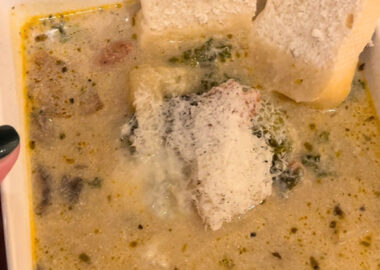 Slow-Cooker Tuscan Sausage Soup
View recipe
View recipe
Creamy Italian Sausage Butternut Squash and Gnocchi Soup
View recipe
Polidori Sausage Soup in a Pumpkin
View recipe
Polidori Bratwurst Mummies
View recipe
Polidori Sausage-&-Mac-O-Lanterns
View recipe
Polidori Italian Sausage, Gnocchi and Tomato Soup
View recipe