Penne with Arugula, Chorizo, and Romano
Penne with Arugula, Polidori Chorizo, and Romano is a delightful pasta dish that combines the peppery bite of arugula, the spicy kick of Polidori chorizo, and the nutty richness of Romano cheese. This flavorful combination creates a vibrant and satisfying meal that's both easy to prepare and bursting with delicious Mediterranean-inspired flavors.
Made with:
Chorizo
20

minutes
30

minutes
50

minutes
Ingredients:
1

tbsp

extra-virgin olive oil

8

oz

chorizo

sliced into thin disks

3

whole

shallots

chopped fine

5

cloves

garlic

minced

1/2

cup

dry white wine

1

cup

low sodium chicken broth

1

tbsp

salt

1

lb

penne

1

cup

Romano cheese

grated

5

oz

clamshell baby arugula
Directions:
Bring 4 quarts water to boil in large pot. Heat oil in large nonstick skillet over medium heat until shimmering. Add chorizo and cook until golden brown, 2 to3 minutes per side. Transfer to paper towel lined plate. 

Add shallots to empty skillet (keep chorizo grease, if any, in the pan) and cook until softened, about 5 minutes. Add gar-lic and cook until fragrant, about 30 seconds. Add wine and reduce by half, about 1 minute, and then add chicken broth and cook until sauce thickens, about 3 minutes. 

Add salt and pasta to boiling water and cook until al dente. Drain and return pasta to pot. Add sauce, chorizo, cheese, and arugula, and toss until arugula is wilted, about 1 minute. 
More recipes
Sausage & Butternut Squash Pasta Recipe
View recipe
View recipe
Hatch Chile Cheese Sausage Mac and Cheese
View recipe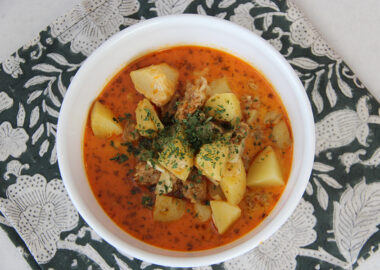 View recipe
Chorizo Salsa Verde Pizza
View recipe
Polidori Grilled Sausages with Peaches and Pickled Onions
View recipe
Polidori Brats and Side Dish Salads
View recipe
Sweet and Spicy Polidori Sausage Sandwich
View recipe
Air Fried Polidori Hatch Chile Cheese Sausage
View recipe
Polidori Chorizo Stuffed Bell Peppers
View recipe
Pasta with Polidori Sausage, Tomatoes, and Cream
View recipe
Sheet Pan Sausage Peppers and Onions
View recipe
Polidori's Famous Lasagna
View recipe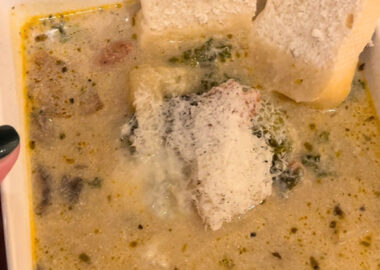 Slow-Cooker Tuscan Sausage Soup
View recipe
View recipe
Creamy Italian Sausage Butternut Squash and Gnocchi Soup
View recipe
Polidori Sausage Soup in a Pumpkin
View recipe
Polidori Bratwurst Mummies
View recipe
Polidori Sausage-&-Mac-O-Lanterns
View recipe
Polidori Italian Sausage, Gnocchi and Tomato Soup
View recipe