Cheesy Brat Stew for the Slow Cooker
Cheesy Brat Stew for the Slow Cooker is a hearty and comforting dish that features Polidori bratwurst cooked to perfection in a creamy and cheesy broth with tender vegetables. This slow-cooked stew offers a delightful blend of flavors and a satisfying, cheesy twist on traditional bratwurst dishes, making it perfect for warming up on a chilly day.
Made with:
Bratwurst Links
15

minutes
3

hours
3

hours
15

minutes
Ingredients:
6

links

Polidori Bratwurst

4

medium

Potatoes

Peeled and cubed to 1/4 inch

1

tablespoon

Minced dried onion

1

can

Green beans

Drained

1

small

Red bell pepper

Seeded and chopped

2

cups

Cheddar cheese

shredded

1

can

cream of mushroom soup

2/3

cup

Water
Directions:
Place bratwurst potatoes, minced onion, green beans, red pepper, cheddar cheese, mushroom soup, and water into a slow cooker. Cover, and cook on medium for 3 hours or until potatoes are fork tender.
More recipes
Sausage & Butternut Squash Pasta Recipe
View recipe
View recipe
Hatch Chile Cheese Sausage Mac and Cheese
View recipe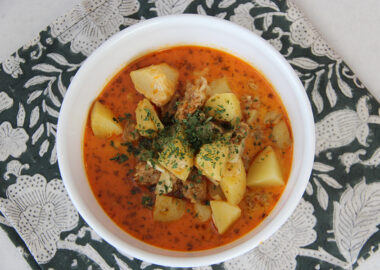 View recipe
Chorizo Salsa Verde Pizza
View recipe
Polidori Grilled Sausages with Peaches and Pickled Onions
View recipe
Polidori Brats and Side Dish Salads
View recipe
Sweet and Spicy Polidori Sausage Sandwich
View recipe
Air Fried Polidori Hatch Chile Cheese Sausage
View recipe
Polidori Chorizo Stuffed Bell Peppers
View recipe
Pasta with Polidori Sausage, Tomatoes, and Cream
View recipe
Sheet Pan Sausage Peppers and Onions
View recipe
Polidori's Famous Lasagna
View recipe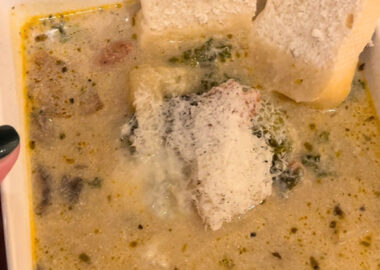 Slow-Cooker Tuscan Sausage Soup
View recipe
View recipe
Creamy Italian Sausage Butternut Squash and Gnocchi Soup
View recipe
Polidori Sausage Soup in a Pumpkin
View recipe
Polidori Bratwurst Mummies
View recipe
Polidori Sausage-&-Mac-O-Lanterns
View recipe
Polidori Italian Sausage, Gnocchi and Tomato Soup
View recipe