Polidori Sausage and Potato Lasagna
Polidori Sausage and Potato Lasagna is a delightful twist on the classic Italian dish, where layers of thinly sliced potatoes and savory Polidori sausage are enveloped in rich tomato sauce and creamy cheese. This hearty and indulgent lasagna offers a comforting blend of flavors and textures that make it a standout choice for a satisfying family dinner.
Made with:
Polidori Mild or Hot Italian Sausage
30

minutes
55

minutes
1

hour
35

minutes
Ingredients:
1/2

lb.

Polidori Mild or Hot Italian Sausage

2

cups

Fresh mushrooms

sliced

4

cups

White, round red, or yellow potatoes (1 1/4 lbs.)

peeled and thinly sliced

1

whole

Egg

beaten

1 1/2

cups

Ricotta cheese or cream-style cottage cheese (drained)

1/4

cup

Pamesan or Romano cheese

grated

1

10 oz. package

Frozen chopped spinach

thawed and well drained

1

medium

Onion

chopped

2

cloves

Garlic

minced

2

tbsp

Butter

2

tbsp

All-purpose flour

1/4

tsp

Ground nutmeg

1 1/2

cups

Milk

1

cup

Mozzarella cheese

shredded
Directions:
Remove casing from sausage and cook in a 10-inch skillet with the mushrooms until meat is brown. Drain off fat.

In a large saucepan cook sliced potatoes, covered, in boiling water for 5 minutes (they won't be thoroughly cooked). Drain; set aside.

For filling, stir together egg, ricotta or cottage cheese, and Parmesan or Romano cheese. Stir in spinach.

For sauce, in a medium saucepan cook onion and garlic in hot margarine or butter until onion is tender but not brown. Stir in flour and nutmeg. Add milk all at once. Cook and stir until thickened and bubbly.

Layer half of the potatoes in a greased 2-quart rectangular baking dish. Top with half of the spinach filling. Top with half of the meat mixture, half of the sauce, and half of the mozzarella cheese. Repeat layers, except reserve remaining cheese.

Cover with foil and bake in a 350 degree F. oven about 35 minutes or until potatoes are tender. Uncover; sprinkle remaining cheese atop and bake about 5 minutes more or until cheese is melted. Let stand for 10 minutes. Makes 6 to 8 servings.
More recipes
Sausage & Butternut Squash Pasta Recipe
View recipe
View recipe
Hatch Chile Cheese Sausage Mac and Cheese
View recipe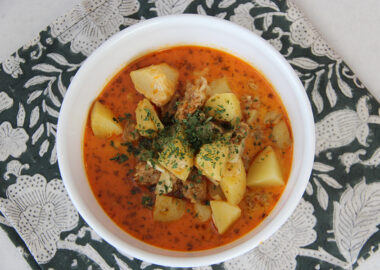 View recipe
Chorizo Salsa Verde Pizza
View recipe
Polidori Grilled Sausages with Peaches and Pickled Onions
View recipe
Polidori Brats and Side Dish Salads
View recipe
Sweet and Spicy Polidori Sausage Sandwich
View recipe
Air Fried Polidori Hatch Chile Cheese Sausage
View recipe
Polidori Chorizo Stuffed Bell Peppers
View recipe
Pasta with Polidori Sausage, Tomatoes, and Cream
View recipe
Sheet Pan Sausage Peppers and Onions
View recipe
Polidori's Famous Lasagna
View recipe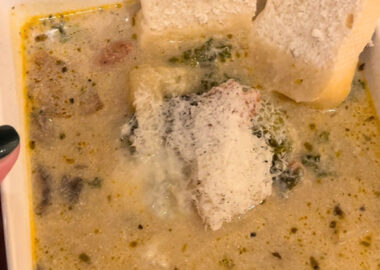 Slow-Cooker Tuscan Sausage Soup
View recipe
View recipe
Creamy Italian Sausage Butternut Squash and Gnocchi Soup
View recipe
Polidori Sausage Soup in a Pumpkin
View recipe
Polidori Bratwurst Mummies
View recipe
Polidori Sausage-&-Mac-O-Lanterns
View recipe
Polidori Italian Sausage, Gnocchi and Tomato Soup
View recipe