Winter Minestrone Soup
Embrace the cozy vibes of winter with a hearty Winter Minestrone Soup. This comforting dish combines an array of seasonal vegetables, beans, pasta, and savory Polidori sausage in a flavorful broth, making it a nourishing and warming option for cold days.
Made with:
Mild Italian Links
20

minutes
3

hours
30

minutes
3

hours
50

minutes
Ingredients:
1

lb.

Polidori Mild Italian Sausage

casings removed

2

cups

Yellow onion

chopped

1

cup

Carrots

chopped

3/4

cup

Celery

chopped

1

cup

Green beans (frozen is okay)

chopped to 1/2 pieces

6

cups

Chicken stock

29

oz.

Fire-roasted diced tomatoes

drained

15

oz.

Kidney beans

drained and rinsed

1/2

tsp.

Kosher salt

1/2

tsp.

Black pepper

1

cup

Ditalini pasta

uncooked

2

cups

Spinach leaves

roughly chopped
Directions:
Heat a large nonstick skillet over medium-high. Add the sausage to the skillet, and cook, stirring to crumble with a wooden spoon, 4 minutes. Add the onions, carrots, and celery to the skillet; cook, stirring occasionally, until the sausage is browned and the vegetables are lightly caramelized, about 6 minutes. Add 1 cup of the stock; cook 1 minute, stirring and scraping to loosen the browned bits from the bottom of the skillet.

Transfer the sausage mixture to a 5- to 6-quart slow cooker. Stir in the tomatoes, kidney beans, green beans, salt, 1/4 teaspoon of the pepper, and the remaining 5 cups stock. Cover and cook on LOW until the vegetables are tender, about 2 hours and 30 minutes. Stir in the pasta; cover and cook on LOW until the pasta is al dente, about 1 hour. Stir in the kale and remaining 1/4 teaspoon pepper. Ladle the soup into bowls, and serve hot.
More recipes
Sausage & Butternut Squash Pasta Recipe
View recipe
View recipe
Hatch Chile Cheese Sausage Mac and Cheese
View recipe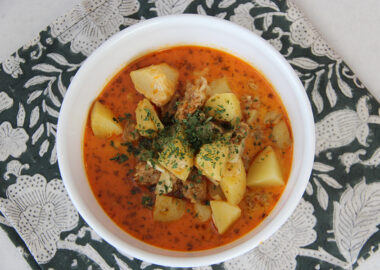 View recipe
Chorizo Salsa Verde Pizza
View recipe
Polidori Grilled Sausages with Peaches and Pickled Onions
View recipe
Polidori Brats and Side Dish Salads
View recipe
Sweet and Spicy Polidori Sausage Sandwich
View recipe
Air Fried Polidori Hatch Chile Cheese Sausage
View recipe
Polidori Chorizo Stuffed Bell Peppers
View recipe
Pasta with Polidori Sausage, Tomatoes, and Cream
View recipe
Sheet Pan Sausage Peppers and Onions
View recipe
Polidori's Famous Lasagna
View recipe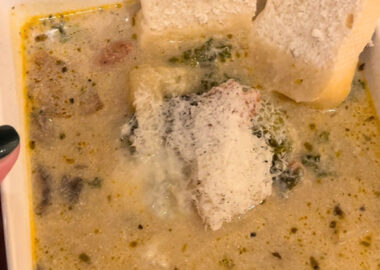 Slow-Cooker Tuscan Sausage Soup
View recipe
Creamy Italian Sausage Butternut Squash and Gnocchi Soup
View recipe
Polidori Sausage Soup in a Pumpkin
View recipe
Polidori Bratwurst Mummies
View recipe
Polidori Sausage-&-Mac-O-Lanterns
View recipe
Polidori Italian Sausage, Gnocchi and Tomato Soup
View recipe
Polidori Chorizo Mac & Cheese with Real Dill Bloody Mary Rimming Spice
View recipe