Rosemary Sausage and Sweet Potato Hash
Rosemary Sausage and Sweet Potato Hash is a flavorful and hearty breakfast dish that combines the savory notes of rosemary-infused Polidori sausage with the sweetness of tender sweet potatoes. This delicious and satisfying hash offers a delightful blend of savory and sweet flavors, making it a perfect way to start your day.
Made with:
Mild Italian Links
20

minutes
35

minutes
55

minutes
Ingredients:
2

sweet potatoes (or sub regular potatoes)

cubed into bite size pieces

2

tablespoons

avocado oil

divided

1

Onion

roughly chopped

1

Bell pepper

roughly chopped

2

pounds

Polidori Italian Sausage

1

tablespoon

fresh rosemary

finely chopped

2

teaspoons

oregano

1

teaspoon

garlic powder

1

teaspoon

smoked paprika

salt and pepper to taste

8

cups

greens (spinach, arugula, kale, etc.)

8

eggs

optional
Directions:
Preheat oven to 425 degrees Fahrenheit and line a baking sheet with parchment paper.

Cut sweet potatoes as noted and spread out cubes on the baking sheet. Drizzle with 1 tbsp avocado oil and sprinkle with salt and pepper. Mix to coat and spread the potato cubes out in an even layer. Place in the oven to bake for 30 minutes.

While the potatoes are cooking, cut up onion and bell pepper as noted.

Heat a large skillet over medium heat and add 1 tbsp avocado oil, onion and bell pepper. Cook until onions soften, about 4-5 minutes.

Add ground pork to the pan and cook until the pork is no longer pink, stirring occasionally, about 10-12 minutes.

While the pork cooks, prep rosemary as noted.

Once the pork is browned, add oregano, garlic powder, smoked paprika and rosemary to the pan. Mix with the pork, taste and season with salt and pepper as desired. Turn heat down to low and simmer.

Once the potatoes are finished, add them in with the pork mixture and mix to incorporate.

Serve over greens and optional egg on top, cooked to your liking.
More recipes
Sausage & Butternut Squash Pasta Recipe
View recipe
View recipe
Hatch Chile Cheese Sausage Mac and Cheese
View recipe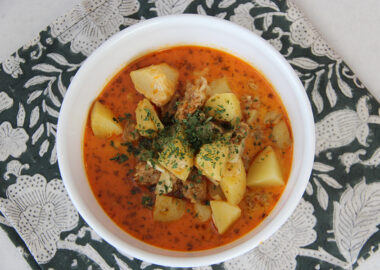 View recipe
Chorizo Salsa Verde Pizza
View recipe
Polidori Grilled Sausages with Peaches and Pickled Onions
View recipe
Polidori Brats and Side Dish Salads
View recipe
Sweet and Spicy Polidori Sausage Sandwich
View recipe
Air Fried Polidori Hatch Chile Cheese Sausage
View recipe
Polidori Chorizo Stuffed Bell Peppers
View recipe
Pasta with Polidori Sausage, Tomatoes, and Cream
View recipe
Sheet Pan Sausage Peppers and Onions
View recipe
Polidori's Famous Lasagna
View recipe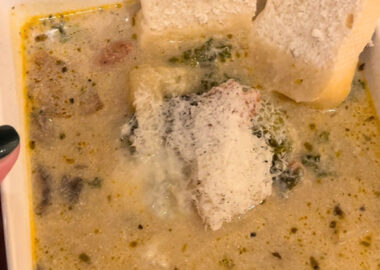 Slow-Cooker Tuscan Sausage Soup
View recipe
View recipe
Creamy Italian Sausage Butternut Squash and Gnocchi Soup
View recipe
Polidori Sausage Soup in a Pumpkin
View recipe
Polidori Bratwurst Mummies
View recipe
Polidori Sausage-&-Mac-O-Lanterns
View recipe
Polidori Italian Sausage, Gnocchi and Tomato Soup
View recipe