Protein Packed Breakfast Buns
Made with:
Breakfast Sausage links
20

minutes
20

minutes
40

minutes
Ingredients:
1

lb.

Polidori Breakfast Sausage links

4

whole

Hot dog buns

4

whole

Eggs

4

strips

Thick cut bacon

1

cup

Shredded cheese

Desired amount of hash brown or peasant potatoes

Green onion (chives)

Hot sauce (Cholula)
Directions:
Cook bacon in the oven at 380 degrees for 15 minutes (or until desired crispiness). At the same time Cook up the Polidori Breakfast links in a pan to an internal temperature of 160 degrees.

Sauté hash browns or potatoes till desired crispiness is acquired.

Fry eggs to desired yolk consistency (hard, soft, or medium center).

Cut green onions into small slivers.

Toast bun with butter (insert cheese while toasting).

Assemble: Insert 2 breakfast links on the bun, tuck the bacon on the sides of the bun, then layer some hash browns on the top, proceed to put the eggs on top and finish with the green onions. Enjoy your protein packed breakfast dogs!
More recipes
Sausage & Butternut Squash Pasta Recipe
View recipe
View recipe
Hatch Chile Cheese Sausage Mac and Cheese
View recipe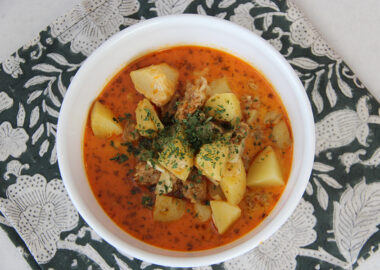 View recipe
Chorizo Salsa Verde Pizza
View recipe
Polidori Grilled Sausages with Peaches and Pickled Onions
View recipe
Polidori Brats and Side Dish Salads
View recipe
Sweet and Spicy Polidori Sausage Sandwich
View recipe
Air Fried Polidori Hatch Chile Cheese Sausage
View recipe
Polidori Chorizo Stuffed Bell Peppers
View recipe
Pasta with Polidori Sausage, Tomatoes, and Cream
View recipe
Sheet Pan Sausage Peppers and Onions
View recipe
Polidori's Famous Lasagna
View recipe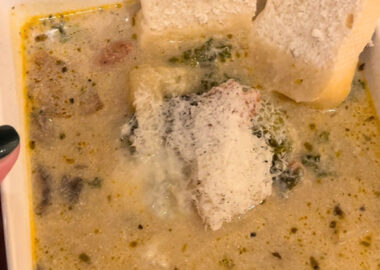 Slow-Cooker Tuscan Sausage Soup
View recipe
View recipe
Creamy Italian Sausage Butternut Squash and Gnocchi Soup
View recipe
Polidori Sausage Soup in a Pumpkin
View recipe
Polidori Bratwurst Mummies
View recipe
Polidori Sausage-&-Mac-O-Lanterns
View recipe
Polidori Italian Sausage, Gnocchi and Tomato Soup
View recipe