Polidori Sausage-&-Mac-O-Lanterns
Polidori Sausage-&-Mac-O-Lanterns are a whimsical and delicious Halloween dish that combines the flavors of Polidori sausage and macaroni and cheese inside carved bell peppers to resemble jack-o'-lanterns. These festive creations are a fun way to bring a taste of Halloween to your dinner table.
Made with:
Hot Italian Links
20

minutes
20

minutes
40

minutes
Ingredients:
1

lb.

Polidori Hot Italian Sausage

casings removed

6

whole

Orange bell peppers

8

oz.

Elbow macaroni

1.25

cups

Half-and-half

8

oz.

Cream cheese

at room temperature

4

oz.

Mild Cheddar cheese

shredded (about 1 cup)
Directions:
Fully cook Polidori Hot Italian Sausage in frying pan, breaking up into small pieces. Drain oil and set aside.

Bring a large pot of generously salted water to a boil. Fill a large bowl with ice water.

Cut the tops off the peppers and reserve. Remove the seeds and membranes. Put the peppers and the tops in the boiling water and cook until just tender, 2 to 3 minutes. Plunge the peppers into the ice bath. Once cool, remove them and use a sharp knife to carve a jack-o-lantern face into one side of each pepper.

Return the water to a boil, add the macaroni and cook until al dente, about 6 minutes. Reserve 1 cup of the pasta water and drain (don't rinse the pasta). 

Heat the half-and-half in a large saucepan over medium heat until it just comes to a simmer. Continue simmering until reduced to about 3/4 cup, about 10 minutes. Add the cream cheese and stir until melted. Whisk in the Cheddar until all the cheese is melted and the sauce is smooth.

Off the heat, add the macaroni and reserved sausage to the saucepan and stir to combine. Stir in some of the reserved pasta water to thin the sauce if needed. Season with salt if needed. Let sit for 10 minutes, then divide the mac and cheese among the peppers and cap each with a pepper top.
More recipes
Sausage & Butternut Squash Pasta Recipe
View recipe
View recipe
Hatch Chile Cheese Sausage Mac and Cheese
View recipe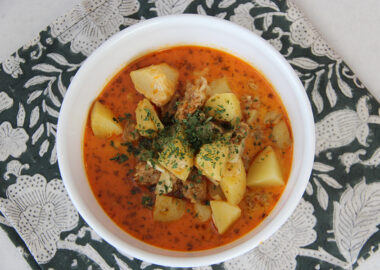 View recipe
Chorizo Salsa Verde Pizza
View recipe
Polidori Grilled Sausages with Peaches and Pickled Onions
View recipe
Polidori Brats and Side Dish Salads
View recipe
Sweet and Spicy Polidori Sausage Sandwich
View recipe
Air Fried Polidori Hatch Chile Cheese Sausage
View recipe
Polidori Chorizo Stuffed Bell Peppers
View recipe
Pasta with Polidori Sausage, Tomatoes, and Cream
View recipe
Sheet Pan Sausage Peppers and Onions
View recipe
Polidori's Famous Lasagna
View recipe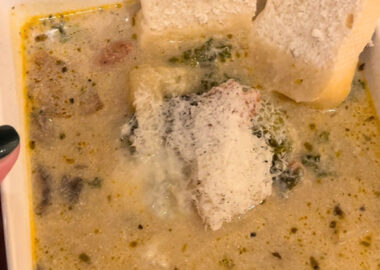 Slow-Cooker Tuscan Sausage Soup
View recipe
View recipe
Creamy Italian Sausage Butternut Squash and Gnocchi Soup
View recipe
Polidori Sausage Soup in a Pumpkin
View recipe
Polidori Bratwurst Mummies
View recipe
Polidori Italian Sausage, Gnocchi and Tomato Soup
View recipe
Polidori Chorizo Mac & Cheese with Real Dill Bloody Mary Rimming Spice
View recipe