Polidori Kabrats
Polidori Kabrats are a delightful and convenient twist on the classic bratwurst. These flavorful sausages are skewered, making them easy to grill or cook over an open flame, resulting in a deliciously charred and smoky taste that's perfect for outdoor gatherings and barbecues.
Made with:
Bratwurst Links
30

minutes
20

minutes
50

minutes
Ingredients:
4

whole

Polidori Hatch Green Chile Brats

Cooked and cut into 4 pieces each

1

whole

Red pepper

Cut into large cubes

1

whole

Green pepper

Cut into large cubes

8

whole

Yukon Gold potatoes

Cooked and sliced in half
Directions:
Alternate items onto 4 metal skewers.

Grill at 450 degrees on ALL sides until caramelized and peppers are roasted.

Glaze as desired during the last 3-4 minutes of cooking.

Carefully use heat-resistant gloves or tongs to remove the skewers.

Let cool for 3 minutes and DEVOUR!
More recipes
Sausage & Butternut Squash Pasta Recipe
View recipe
View recipe
Hatch Chile Cheese Sausage Mac and Cheese
View recipe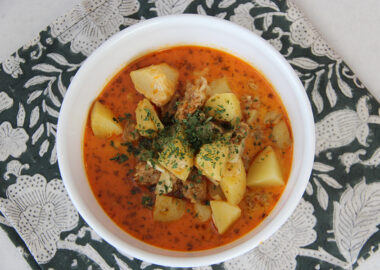 View recipe
Chorizo Salsa Verde Pizza
View recipe
Polidori Grilled Sausages with Peaches and Pickled Onions
View recipe
Polidori Brats and Side Dish Salads
View recipe
Sweet and Spicy Polidori Sausage Sandwich
View recipe
Air Fried Polidori Hatch Chile Cheese Sausage
View recipe
Polidori Chorizo Stuffed Bell Peppers
View recipe
Pasta with Polidori Sausage, Tomatoes, and Cream
View recipe
Sheet Pan Sausage Peppers and Onions
View recipe
Polidori's Famous Lasagna
View recipe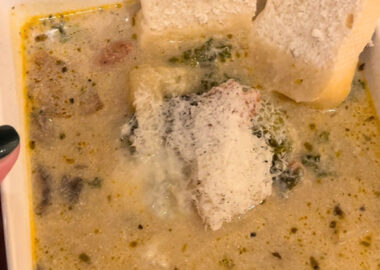 Slow-Cooker Tuscan Sausage Soup
View recipe
View recipe
Creamy Italian Sausage Butternut Squash and Gnocchi Soup
View recipe
Polidori Sausage Soup in a Pumpkin
View recipe
Polidori Bratwurst Mummies
View recipe
Polidori Sausage-&-Mac-O-Lanterns
View recipe
Polidori Italian Sausage, Gnocchi and Tomato Soup
View recipe