Polidori Italian Sausage, Gnocchi and Tomato Soup
Warm up with the comforting flavors of Polidori Italian Sausage, Gnocchi, and Tomato Soup. This hearty soup combines the savory notes of Italian sausage with soft gnocchi and a flavorful tomato broth, making it a satisfying and flavorful meal, perfect for chilly days.
Made with:
Mild Italian Links
10

minutes
20

minutes
30

minutes
Ingredients:
1

lb.

Polidori Italian Sausage (Hot or Mild)

casings removed

1

tbsp

Olive oil

divided

1

medium

White onion

diced

2

large

Carrots

diced

3

stalks

Celery

diced

2

Bell peppers (red, orange or yellow)

diced

5

cloves

Garlic

peeled and minced

1/2

cup

Dry red or white wine

4

cups

Chicken stock

2

15-ounce cans

Tomato sauce

1

15-ounce can

Diced tomatoes

1

tbsp

Italian seasoning

1

tsp

Crushed red pepper flakes

more to taste

2

large handfuls

Fresh baby spinach or roughly chopped kale

Optional toppings: freshly-grated Parmesan cheese, finely-chopped fresh parsley or basil
Directions:
Brown the sausage in a large stockpot over medium-high heat — crumbling it with a spoon as you go — until it is cooked through.  Use a slotted spoon to transfer the sausage to a separate plate, leaving behind about 1-2 tablespoons of grease in the pot.  (Remove any excess grease, or add a little bit of olive oil if there is not enough remaining.)

Add the onion and sauté for 3 minutes, stirring occasionally.  Add the carrots, celery, bell peppers, garlic, and sauté for 5 more minutes, stirring occasionally.

Add in the wine, and use a wooden spoon to deglaze the pot (scraping up those delicious brown bits that get stuck to the bottom).  Add in the chicken stock, tomato sauce, diced tomatoes, Italian seasoning, red pepper flakes, and stir to combine.  Continue cooking until the soup reaches a simmer.  Then reduce heat to medium-low, cover, and simmer for 5-10 more minutes, or until the vegetables are completely tender.

Add in the cooked sausage, gnocchi and spinach (or kale), and cook for 5-7 minutes, stirring occasionally, or until the gnocchi begin to float and are cooked through.  Taste and season with salt and pepper (and/or extra crushed red pepper flakes) as needed.

Serve immediately, sprinkled with your desired toppings.
More recipes
Sausage & Butternut Squash Pasta Recipe
View recipe
View recipe
Hatch Chile Cheese Sausage Mac and Cheese
View recipe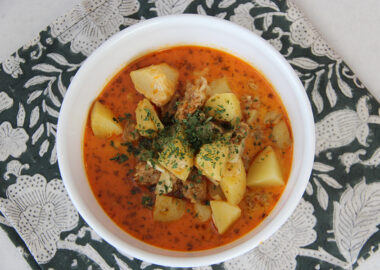 View recipe
Chorizo Salsa Verde Pizza
View recipe
Polidori Grilled Sausages with Peaches and Pickled Onions
View recipe
Polidori Brats and Side Dish Salads
View recipe
Sweet and Spicy Polidori Sausage Sandwich
View recipe
Air Fried Polidori Hatch Chile Cheese Sausage
View recipe
Polidori Chorizo Stuffed Bell Peppers
View recipe
Pasta with Polidori Sausage, Tomatoes, and Cream
View recipe
Sheet Pan Sausage Peppers and Onions
View recipe
Polidori's Famous Lasagna
View recipe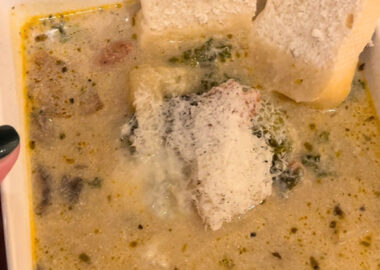 Slow-Cooker Tuscan Sausage Soup
View recipe
View recipe
Creamy Italian Sausage Butternut Squash and Gnocchi Soup
View recipe
Polidori Sausage Soup in a Pumpkin
View recipe
Polidori Bratwurst Mummies
View recipe
Polidori Sausage-&-Mac-O-Lanterns
View recipe
Polidori Chorizo Mac & Cheese with Real Dill Bloody Mary Rimming Spice
View recipe