Polidori Beer Brats and Braised Cabbage
Polidori Beer Brats and Braised Cabbage is a hearty and flavorful dish that pairs succulent Polidori bratwurst with tender, beer-braised cabbage. This combination offers a satisfying blend of savory and slightly sweet flavors, making it a delicious option for a comforting meal.
Made with:
Bratwurst Links
25

minutes
40

minutes
1

hour
5

minutes
Ingredients:
6

slices

Thick Applewood bacon

cut into medium pieces

1

whole

Medium yellow onion

Julienned small

1

tsp

Garlic

minced

1

whole

Large red apple

cored and Julienned

1

cup

Carrots

shredded

1 1/2

cup

Red cabbage

shredded

1 1/2

cup

Green cabbage

shredded

2

tsp

Caraway seed

2

tbsp

Seasoned salt

3

tbsp

Dark brown sugar

1/2

tsp

Smoked black pepper

2

cups

Low sodium chicken stock

1

cup

Dark or amber beer
Directions:
Place your Cast Iron Dutch Oven on the stove, pre heat on high heat for 5-7 Minutes.

Once heated, add the bacon and cook until rendered and bacon starts to caramelize.

Add the caraway, onions and garlic. Sauté in the bacon fat until onions are soft and translucent.

Add the carrots, apples and cabbage. Sauté for 5 minutes to soften.

Add the seasoned salt, pepper, sugar and mix well.

Add the Chicken stock and choice of Beer – we prefer an amber or darker beer.

Cover the cast iron dutch oven and cook on medium heat for about 20 minutes.

Remove cover, stir well and continue to cook on medium heat until 80% of liquid has evaporated.

Adjust seasoning as needed. If too much liquid evaporates add more stock.

Serve hot with grilled or smoked Polidori Beer Brats!
More recipes
Sausage & Butternut Squash Pasta Recipe
View recipe
View recipe
Hatch Chile Cheese Sausage Mac and Cheese
View recipe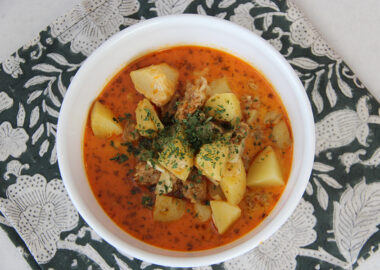 View recipe
Chorizo Salsa Verde Pizza
View recipe
Polidori Grilled Sausages with Peaches and Pickled Onions
View recipe
Polidori Brats and Side Dish Salads
View recipe
Sweet and Spicy Polidori Sausage Sandwich
View recipe
Air Fried Polidori Hatch Chile Cheese Sausage
View recipe
Polidori Chorizo Stuffed Bell Peppers
View recipe
Pasta with Polidori Sausage, Tomatoes, and Cream
View recipe
Sheet Pan Sausage Peppers and Onions
View recipe
Polidori's Famous Lasagna
View recipe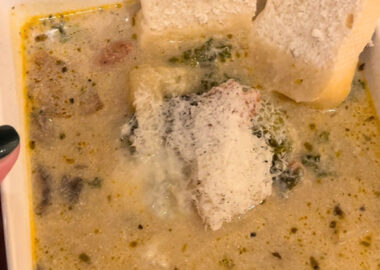 Slow-Cooker Tuscan Sausage Soup
View recipe
View recipe
Creamy Italian Sausage Butternut Squash and Gnocchi Soup
View recipe
Polidori Sausage Soup in a Pumpkin
View recipe
Polidori Bratwurst Mummies
View recipe
Polidori Sausage-&-Mac-O-Lanterns
View recipe
Polidori Italian Sausage, Gnocchi and Tomato Soup
View recipe