Paleo Italian Sausage and Potato Soup
Paleo Italian Sausage and Potato Soup is a warm and comforting dish that features the rich flavors of Italian sausage combined with hearty chunks of potatoes in a broth free of dairy or grains. This satisfying soup is a perfect choice for those following a Paleo diet, offering a wholesome and flavorful option for a cozy meal.
Made with:
Hot Italian Links
20

minutes
40

minutes
1

hour
Ingredients:
1

pound

Polidori Hot Italian Sausage

ground

4

slices of bacon

uncooked, chopped small

1

medium onion

diced

3

cloves of garlic

minced

3

white sweet potatoes

peeled and diced into about 1/2″ pieces

1

large carrot

sliced thin

1

teaspoon

Italian seasoning

5

cups

chicken broth

1/2

cups

full fat coconut milk

3

cups

spinach

chopped

2

tablespoons

basil

chopped

1/2

teaspoon

Cayenne pepper

adjust to your taste

salt and pepper to taste

olive oil
Directions:
In a large pot over medium heat, add the onion, sausage and bacon plus 2 tbs of olive oil. Stir just until sausage is cooked through.

If you have a lot of fat in the pot, drain most of it leaving a little behind for flavor.

Next add the minced garlic to the pot and cook for just 1 minute. Now add in the potatoes, carrots, Italian seasoning, and salt and pepper to the same pot. Stir over medium heat to combine flavors for about 5 minutes.

Add chicken broth to the pot and simmer for about 15 minutes, or until potatoes are tender.

Add coconut milk, spinach and basil – simmer for 5 minutes.

Finally stir in the cayenne – taste and add more if you want it spicier.

Ladle into soup bowls and enjoy!
More recipes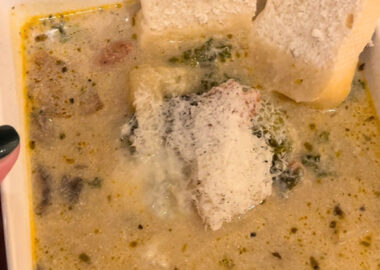 Slow-Cooker Tuscan Sausage Soup
View recipe
View recipe
Creamy Italian Sausage Butternut Squash and Gnocchi Soup
View recipe
Polidori Sausage Soup in a Pumpkin
View recipe
Polidori Italian Sausage, Gnocchi and Tomato Soup
View recipe
Cauliflower Sausage Kale Soup
View recipe
Mediterranean Kale & White Bean Soup with Sausage
View recipe
Minestrone with Italian Sausage
View recipe
Creamy White Bean and Chorizo Soup
View recipe
View recipe
Cheesy Brat Stew for the Slow Cooker
View recipe