Creamy White Bean and Chorizo Soup
Creamy White Bean and Chorizo Soup is a rich and flavorful dish that combines the creamy goodness of white beans with the spicy kick of Polidori Chorizo, all simmered together in a delicious broth. This hearty soup offers a satisfying blend of textures and a bold fusion of flavors, making it a comforting choice for a warm and hearty meal.
Made with:
Chorizo
Ingredients:
1

pound

dried canellini or Great Northern beans

8

cups

water

3

tablespoons

olive oil

extra-virgin, divided

3

garlic cloves

1 smashed, 2 chopped

1

large, fresh rosemary sprig

1

bay leaf

1

large onion

coarsely chopped

1

large carrot

coarsely chopped

2 1/2

teaspoons

fresh thyme

finely chopped, divided

4

cups (or more)

low-salt chicken broth

1

pound

Polidori Chorizo Sausage

1/4

cup

whipping cream
Directions:
Place beans in heavy large saucepan. Add enough water to pan to cover beans by 4 inches. Let beans soak overnight at room temperature.

Drain and rinse beans; return to same saucepan. Add 8 cups water, 1 tablespoon oil, smashed garlic clove, rosemary, and bay leaf. Bring to boil. Reduce heat to medium-low, partially cover, and simmer until beans are just tender, 1 to 11/2 hours. Season to taste with salt. (Can be prepared 2 days ahead. Cool slightly, cover, and chill.)

Drain beans, reserving cooking liquid. Discard rosemary sprig and bay leaf. Heat remaining 2 tablespoons oil in heavy large pot over medium heat. Add onion, carrot, and celery. Sprinkle with salt and pepper. Sauté until vegetables are beginning to soften, about 10 minutes. Add chopped garlic and 1 teaspoon thyme; sauté 2 minutes. Add 2 cups reserved bean cooking liquid, 4 cups chicken broth, and beans. Bring to boil; reduce heat to medium and simmer uncovered until vegetables are tender, about 25 minutes. Cool soup 10 minutes. Meanwhile, sauté chorizo in heavy large skillet over medium-high heat until cooked through, breaking up lumps with back of spoon, about 5 minutes. Transfer chorizo to paper towels to drain.

Using slotted spoon, remove 1 1/2 cups bean mixture from soup; reserve. Working in batches, puree remaining soup in blender until smooth. Return puree to pot. Stir in reserved whole-bean mixture, remaining 1 1/2 teaspoons thyme, chorizo, and cream. (Can be made 1 day ahead. Chill uncovered until cold. Cover and keep chilled.) Rewarm soup over medium heat, thinning with more broth if desired. Season with salt and pepper. Divide soup among bowls and serve.
More recipes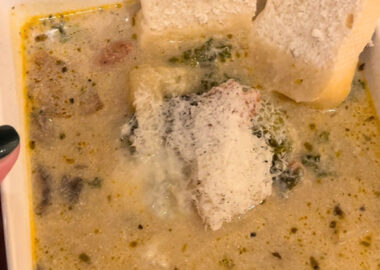 Slow-Cooker Tuscan Sausage Soup
View recipe
View recipe
Creamy Italian Sausage Butternut Squash and Gnocchi Soup
View recipe
Polidori Sausage Soup in a Pumpkin
View recipe
Polidori Italian Sausage, Gnocchi and Tomato Soup
View recipe
Cauliflower Sausage Kale Soup
View recipe
Mediterranean Kale & White Bean Soup with Sausage
View recipe
Paleo Italian Sausage and Potato Soup
View recipe
Minestrone with Italian Sausage
View recipe
View recipe
Cheesy Brat Stew for the Slow Cooker
View recipe