Chorizo Tortilla Soup
Chorizo Tortilla Soup is a zesty and satisfying Mexican-inspired dish that features the bold flavors of Polidori chorizo, crunchy tortilla strips, and a hearty tomato-based broth. This spicy and savory soup offers a delicious combination of textures and tastes, making it a flavorful and comforting choice for a meal.
Made with:
Chorizo
15

minutes
30

minutes
45

minutes
Ingredients:
12

ounces

Polidori Chorizo Sausage

2

tablespoons

olive oil

1

cup

onion

chopped

2

teaspoons

garlic

chopped (2 medium cloves)

4

cups

low sodium chicken broth or stock

28

ounces

carton or canned tomatoes

diced

2

cups

russet potato

peeled, chopped

1/2

teaspoon

kosher salt

15

ounces

canned black, kidney, or pinto beans

drained

fresh black pepper

ground
Directions:
In a stockpot, heat 1 tablespoon oil over medium heat then add onions and cook and stir until softened and lightly browned, about 3-5 minutes. Add garlic and cook until softened, about 1 minute.

Push onions and garlic to one side and add remaining tablespoon oil; add sausage and cook and stir until lightly browned, about 3 minutes.

Add chicken broth, tomatoes, potatoes and salt; bring to a simmer and cook 5 minutes. Add beans and simmer until broth is slightly thickened and potatoes are soft when poked with the tip of a knife, about 20 minutes.

While soup is simmering, cut tortillas into 4 pieces then cut each piece into ½ inch wide strips. Heat vegetable oil in a small saucepan over medium heat. In batches, fry tortilla strips just until golden brown and crisp, about 1 minute; transfer to a paper to a paper towel to drain and sprinkle with salt.

Season soup with salt and pepper. Ladle into serving bowls and top with cilantro and tortilla strips.
More recipes
Sausage & Butternut Squash Pasta Recipe
View recipe
View recipe
Hatch Chile Cheese Sausage Mac and Cheese
View recipe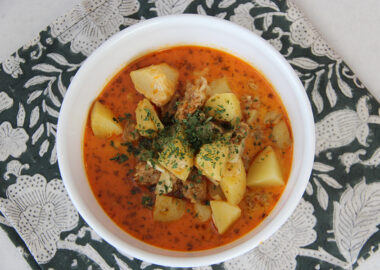 View recipe
Chorizo Salsa Verde Pizza
View recipe
Polidori Grilled Sausages with Peaches and Pickled Onions
View recipe
Polidori Brats and Side Dish Salads
View recipe
Sweet and Spicy Polidori Sausage Sandwich
View recipe
Air Fried Polidori Hatch Chile Cheese Sausage
View recipe
Polidori Chorizo Stuffed Bell Peppers
View recipe
Pasta with Polidori Sausage, Tomatoes, and Cream
View recipe
Sheet Pan Sausage Peppers and Onions
View recipe
Polidori's Famous Lasagna
View recipe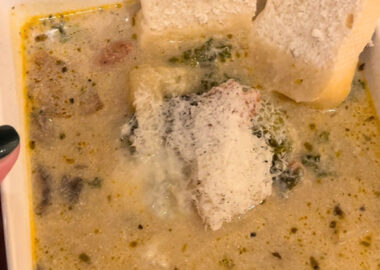 Slow-Cooker Tuscan Sausage Soup
View recipe
View recipe
Creamy Italian Sausage Butternut Squash and Gnocchi Soup
View recipe
Polidori Sausage Soup in a Pumpkin
View recipe
Polidori Bratwurst Mummies
View recipe
Polidori Sausage-&-Mac-O-Lanterns
View recipe
Polidori Italian Sausage, Gnocchi and Tomato Soup
View recipe