Cauliflower Sausage and Kale Soup
Cauliflower Sausage Kale Soup is a nutritious and hearty soup that combines the creaminess of cauliflower with the savory flavors of Polidori sausage and the goodness of kale. This comforting soup is a delicious way to enjoy a wholesome meal packed with vegetables and protein.
Made with:
Mild Italian Links
10

minutes
35

minutes
45

minutes
Ingredients:
1

tbsp

olive oil

1

lb.

Polidori Mild Italian Sausage

removed from casing

3

slices

bacon

chopped

1

medium

onion

diced

2

cloves

garlic

minced

6

cups

cauliflower florets (about 1.25 lbs.)

4

cups

chicken broth

1

cup

half and half

4

cups

curly kale

chopped

kosher salt and fresh black pepper to taste

red pepper flakes for serving (optional)
Directions:
In a large dutch oven or heavy duty soup pot heat olive oil over medium heat.  Add sausage and bacon. Cook until sausage is browned and bacon is crisp, breaking up the meat as you go, about 8-10 minutes. Remove to a plate with a slotted spoon. Drain all but 2 tablespoons of grease.

Add onions and cook until  soft, about 3-4 minutes. Add garlic and cook for 30 seconds, stirring constantly.

Add cauliflower and chicken broth. Season to taste with salt and pepper. Simmer, uncovered, for 15 minutes or until cauliflower is tender.

Puree the soup until smooth in either a high-powered blender or with an immersion blender.

Add half and half and bring to a gentle simmer. Stir in sausage, bacon, and kale. Simmer until kale is wilted, about 5 minutes. Taste the soup for salt. Serve with a sprinkle of red pepper flakes.
More recipes
Sausage & Butternut Squash Pasta Recipe
View recipe
View recipe
Hatch Chile Cheese Sausage Mac and Cheese
View recipe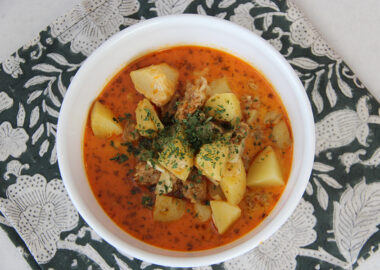 View recipe
Chorizo Salsa Verde Pizza
View recipe
Polidori Grilled Sausages with Peaches and Pickled Onions
View recipe
Polidori Brats and Side Dish Salads
View recipe
Sweet and Spicy Polidori Sausage Sandwich
View recipe
Air Fried Polidori Hatch Chile Cheese Sausage
View recipe
Polidori Chorizo Stuffed Bell Peppers
View recipe
Pasta with Polidori Sausage, Tomatoes, and Cream
View recipe
Sheet Pan Sausage Peppers and Onions
View recipe
Polidori's Famous Lasagna
View recipe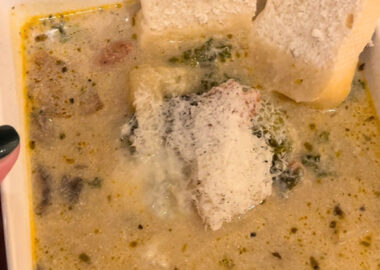 Slow-Cooker Tuscan Sausage Soup
View recipe
View recipe
Creamy Italian Sausage Butternut Squash and Gnocchi Soup
View recipe
Polidori Sausage Soup in a Pumpkin
View recipe
Polidori Bratwurst Mummies
View recipe
Polidori Sausage-&-Mac-O-Lanterns
View recipe
Polidori Italian Sausage, Gnocchi and Tomato Soup
View recipe