Grilled Italian Sausage on Creamy Polenta
Grilled Polidori Italian Sausage on Creamy Polenta is a rustic and satisfying dish that pairs the smoky flavors of grilled sausage with a velvety bed of creamy, buttery polenta. This hearty combination offers a comforting and savory meal that's perfect for those seeking a taste of Italian-inspired comfort food.
Made with:
Mild Italian Links
20

minutes
30

minutes
50

minutes
Ingredients:
1

lb.

Polidori Italian Rope Sausage

1

large

Yellow onion

julienned

1

large

Bell peppers (any color)

julienned

1/2

lb.

Cherry tomatoes

sliced in half

3

whole

Garlic cloves

2

tbsp

Olive oil

Salt and pepper to taste

Fresh basil for garnish
For the Polenta
1/2

cup

Bob's Red Mill Polenta

2

whole

Garlic cloves

minced

2 1/2

cup

Chicken stock (cut in half for Instant Pot recipe)

1/4

cup

Heavy cream

1/2

cup

Parmesan cheese

grated

Salt and pepper to taste
Directions:
Grill sausage to internal temperature of 165 degrees.

Toss onions, peppers, cherry tomatoes, garlic, olive oil, salt and pepper together and place in foil packet. Put foil packet on grill, making sure not to burn contents until vegetables soften.
For Polenta
Place polenta, stock, garlic and cream in small pot and slowly bring to a simmer. Whisking every few minutes to keep it smooth. Once it begins to simmer, place lid on pot and turn heat to low. Still whisking every five minutes or so. Leave on low for at least 20 minutes(may take longer). When polenta has completely softened and desired consistency is reached. Remove lid and add parmesan. Taste and season with salt.
For Instant Pot Polenta
Whisk polenta and 2 cups stock, garlic, and cream in Instant Pot until combined. Bring mixture to a simmer over medium-high, whisk again, then seal pressure cooker according to manufacturer's directions. Cook at high pressure for 10 minutes. When timer goes off, manually release pressure. Carefully open lid and whisk polenta until creamy. Add parmesan and season with salt.

Serve with polenta in a platter, topped with fresh sliced basil.
More recipes
Sausage & Butternut Squash Pasta Recipe
View recipe
View recipe
Hatch Chile Cheese Sausage Mac and Cheese
View recipe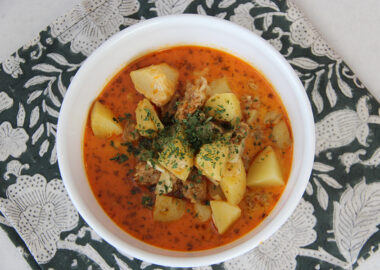 View recipe
Chorizo Salsa Verde Pizza
View recipe
Polidori Grilled Sausages with Peaches and Pickled Onions
View recipe
Polidori Brats and Side Dish Salads
View recipe
Sweet and Spicy Polidori Sausage Sandwich
View recipe
Air Fried Polidori Hatch Chile Cheese Sausage
View recipe
Polidori Chorizo Stuffed Bell Peppers
View recipe
Pasta with Polidori Sausage, Tomatoes, and Cream
View recipe
Sheet Pan Sausage Peppers and Onions
View recipe
Polidori's Famous Lasagna
View recipe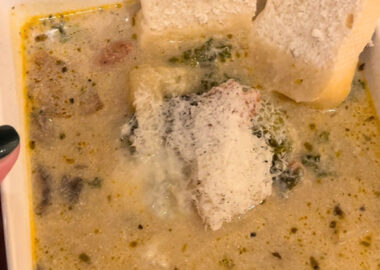 Slow-Cooker Tuscan Sausage Soup
View recipe
View recipe
Creamy Italian Sausage Butternut Squash and Gnocchi Soup
View recipe
Polidori Sausage Soup in a Pumpkin
View recipe
Polidori Bratwurst Mummies
View recipe
Polidori Sausage-&-Mac-O-Lanterns
View recipe
Polidori Italian Sausage, Gnocchi and Tomato Soup
View recipe