Fresh Pasta Lasagna
Fresh Pasta Lasagna is a delectable twist on the classic Italian dish, made with tender, homemade pasta sheets layered with rich tomato sauce, creamy béchamel, and a savory filling of Polidori sausage, ground beef, and cheese. This gourmet version of lasagna offers a delightful balance of textures and flavors, making it a memorable and indulgent choice for a special meal.
Made with:
Mild Italian Links
40

minutes
45

minutes
1

hour
25

minutes
Ingredients:
For the sauce:
1

jar

Spinelli's Marinara Sauce

1

pound

Polidori Italian Sausage

1

bunch

Fresh basil
For the bechamel:
5

tablespoons

Unsalted butter

1/4

cup

All-purpose flour

4

cups

Whole milk

warmed

1

pinch

Freshly ground nutmeg

1

pinch

Kosher salt
Additional ingredients:
1

pound

Fresh pasta sheets or 1 box dry lasagna pasta

8

ounces

Mozzeralla cheese

shredded

4

ounces

Parmesan cheese

shredded

Olive oil for brushing
Directions:
Brown sausage in pan, add sauce and simmer for 20-30 minutes. Cool and set aside.
For bechamel:
Melt butter in a large saucepan over medium heat. Once melted, stir in the flour until smooth. Continue stirring as the flour cooks to a light, golden, sandy color, about 7 minutes.

Increase heat to medium-high and slowly whisk in milk until thickened by the roux. Bring to a gentle simmer, then reduce heat to medium-low and continue simmering until the flour has softened and no longer tastes gritty, 10 to 20 minutes, then season with salt and nutmeg.
For pasta:
Blanch fresh pasta in boiling water for 30 seconds. Remove and cool in cold water bath. Set aside. Brush with olive oil if stacking sheets.
For assembly:
Begin with sauce and alternate between sauce and pasta with one layer of bechamel and cheese in the middle. Place the last piece of pasta on the top, coat with remaining bechamel and sprinkle with mozzarella and parmesan.

Bake for 45 minutes on 375 degrees. Check occasionally and turn down heat if top browns too quickly. Remove from oven when internal temperature of 165 degrees is reach and rest for 15 minutes at room temperature before serving.
More recipes
Sausage & Butternut Squash Pasta Recipe
View recipe
View recipe
Hatch Chile Cheese Sausage Mac and Cheese
View recipe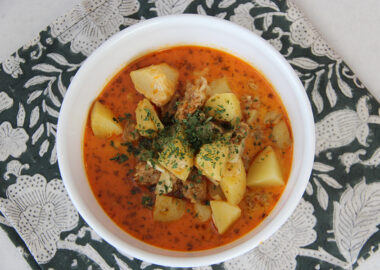 View recipe
Chorizo Salsa Verde Pizza
View recipe
Polidori Grilled Sausages with Peaches and Pickled Onions
View recipe
Polidori Brats and Side Dish Salads
View recipe
Sweet and Spicy Polidori Sausage Sandwich
View recipe
Air Fried Polidori Hatch Chile Cheese Sausage
View recipe
Polidori Chorizo Stuffed Bell Peppers
View recipe
Pasta with Polidori Sausage, Tomatoes, and Cream
View recipe
Sheet Pan Sausage Peppers and Onions
View recipe
Polidori's Famous Lasagna
View recipe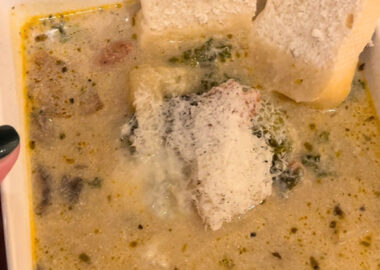 Slow-Cooker Tuscan Sausage Soup
View recipe
View recipe
Creamy Italian Sausage Butternut Squash and Gnocchi Soup
View recipe
Polidori Sausage Soup in a Pumpkin
View recipe
Polidori Bratwurst Mummies
View recipe
Polidori Sausage-&-Mac-O-Lanterns
View recipe
Polidori Italian Sausage, Gnocchi and Tomato Soup
View recipe