Bavarian Herb Rye Fusilli with Beer Cheese Sauce and Polidori Brats
Bavarian Herb Rye Fusilli with Beer Cheese Sauce and Polidori Brats is a hearty and flavorful pasta dish that marries the rich and creamy goodness of beer cheese sauce with the savory delights of Polidori bratwurst. The addition of Bavarian herb rye fusilli adds a unique twist to this comforting meal, creating a memorable culinary experience with every bite.
Made with:
Bratwurst Links
20

minutes
30

minutes
1

hour
Ingredients:
1

lb

Pappardelle's Bavarian Herb Rye Fusilli

1

lb

Polidori Bratwurst

1/4

cup

all purpose flour

6

tbsp

butter

3

cups

milk

1 1/2

cups

cheddar cheese shredded

1

cup

pretzels

1/2

cup

beer (lager or ale)

1/2

tbsp

tbsp dijon mustard

1 

tsp 

Worcestershire sauce

1

tsp

paprika

1

tsp

garlic powder

1

tbsp

extra virgin olive oil

salt and pepper to taste

chopped parsley, as garnish
Directions:
Begin by heating a pan with the olive oil, then add the Polidori Bratwurst and cook through.

Once the bratwurst has cooked and cooled, slice on a bias and set aside.

To prepare the pasta, bring a pot of lightly salted water to a boil. Add pasta to water, return water to a gentle boil, and cook for 10-12 minutes or until al dente, stirring intermittently.

While the pasta cooks, start the sauce. Start by melting four tablespoons of butter (the remaining two will be used later) in a medium saucepan. Add the flour and whisk until smooth. Cook until it just starts to turn golden and has a nutty smell.

Add the 3 cups of milk and the 1/2 cup of beer and whisk until the mixture thickens and bubbles. Then add the 1 1/2 cups of shredded cheddar cheese.

Continue to whisk until all the cheese is melted. Then add the Worcestershire sauce, dijon mustard, paprika, and salt and pepper to taste.

To make the pretzel crumble, grind or crush 1 cup of pretzels until they are mostly small pieces. Melt the remaining two tablespoons of butter in a sauté pan, and then add the crushed pretzels, garlic powder, and salt and pepper to taste. Cook until toasted and a rich brown color.

Serve the pasta with the sauce, bratwurst, pretzel crumble, and garnish with chopped parsley and paprika.
More recipes
Sausage & Butternut Squash Pasta Recipe
View recipe
View recipe
Hatch Chile Cheese Sausage Mac and Cheese
View recipe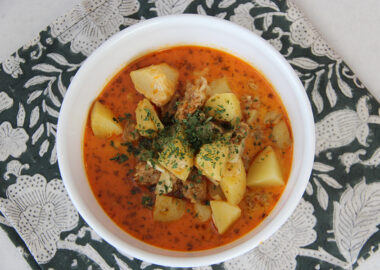 View recipe
Chorizo Salsa Verde Pizza
View recipe
Polidori Grilled Sausages with Peaches and Pickled Onions
View recipe
Polidori Brats and Side Dish Salads
View recipe
Sweet and Spicy Polidori Sausage Sandwich
View recipe
Air Fried Polidori Hatch Chile Cheese Sausage
View recipe
Polidori Chorizo Stuffed Bell Peppers
View recipe
Pasta with Polidori Sausage, Tomatoes, and Cream
View recipe
Sheet Pan Sausage Peppers and Onions
View recipe
Polidori's Famous Lasagna
View recipe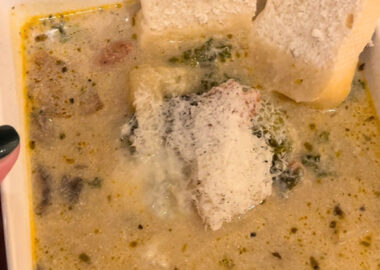 Slow-Cooker Tuscan Sausage Soup
View recipe
View recipe
Creamy Italian Sausage Butternut Squash and Gnocchi Soup
View recipe
Polidori Sausage Soup in a Pumpkin
View recipe
Polidori Bratwurst Mummies
View recipe
Polidori Sausage-&-Mac-O-Lanterns
View recipe
Polidori Italian Sausage, Gnocchi and Tomato Soup
View recipe